It's Time to Rebalance Your Sales Software Portfolio
The landscape for B2B sales has wholly changed and likely will not return to the times of pre-Covid. When it comes to a sales organization's technology stack, companies must think agile. It has never been more important to find the right mix of sales tools to power your sales process. It is a bit like the old nursery tale of Goldilocks and the three bears. As the data shows, these tools are optimal when integrated, but finding that "just right" mix of technologies is complicated.
Sales Teams Are Facing Added Pressure as They Emerge from the Covid Cloud
We must pay homage to the incredible pressure that sales managers are feeling from the Covid Cloud. For a short time, everything stopped for sales teams: prospecting, selling, and performance management. With personnel changes and cluttered pipelines, companies are beginning to emerge from this dark moment, and their sales organizations are on fire to generate momentum. Desperate times often resurface bad habits from dialing for dollars to deep discounting. Sales teams begin to devalue their offering, and the obsessive cycle of pipeline forecasting with the same opportunities moving from quarter-to-quarter begins. With a lot less, the sales team must still deliver results. But how?
Buyers are Harder to Reach, and Relationships are Harder to Foster
Strategic selling is still about the buyers and the impediments they are facing. However, in the time of Covid, sellers are not engaging with prospects in-person, making the buyer's journey more complicated to understand. With the rise of the remote workforce, sales teams require new tools to form and nurture relationships with buyers and a better way to facilitate remote team selling and collaboration that directly advances deals and improves win rates.
On Average Most Companies Have 10.7 Tools in Their Sales Tech Stack. But Is it the Right Mix?
Customer Relationship Management (CRM) software (not listed in the table) is a universal tool used among sales organizations and "the backbone for many of the tech tools we analyzed" explains CSO Insights. In their annual Sales Operations & Technology Study, CSO Insights outlines the top 10 most common sales software tools and the top 5 planned for the next 12 months that complement CRM functionality. Despite averaging 10.7 tools, management realizes they still do not have the right mix to supplement CRM functionality and move the needle on revenue. Will adding more tools to the sales technology mix improve win rates? Do existing tools impact revenue? To set up the team for success in 2021, companies need to pause, reevaluate their sales tech, and rebalance their portfolio of sales technologies to match the current challenging times. Most companies will find out that they have either too little or too many sales tools and that very few sales tools are directly impacting revenue.

Too Little Sales Technology Leaves Revenue Behind
There are divisions of Fortune 500 companies that have 'too little' sales technology. They rely solely on CRM to run their business. It is critical to find the 'just right' tools to complement CRM and drive greater sales performance. "Given the constantly-changing composition of sales teams and buying complexities, managers should overweight helping sellers with deal execution and underweight skill-building."
Managers that place a greater emphasis on deal coaching like 'deal negotiation and problem-solving' are seeing far greater success. Gartner examined the anatomy of World-Class Sales Manager and uncovered that those that emphasize deal execution activities outperform their peers. In evaluating their sales tech stack, companies need to look for complementary tools that reinforce sales behavior that directly impacts revenue.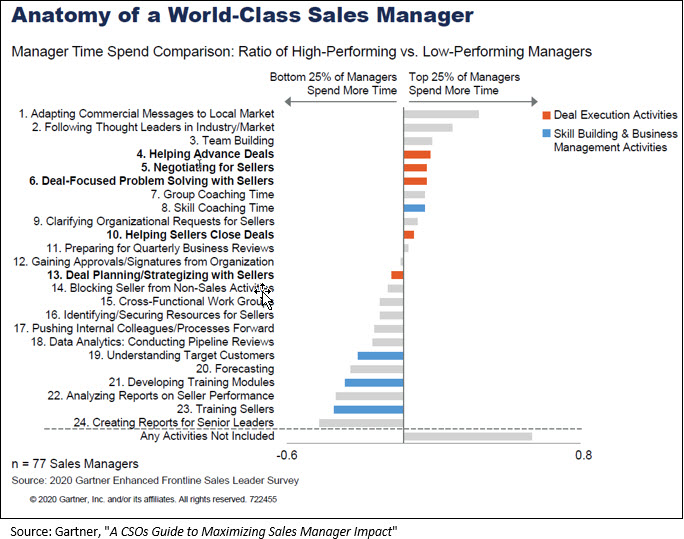 Too Much Sales Technology Disables Sales Teams
SMB and Enterprise companies are wasting millions of dollars every year on their sales technology stack and overwhelming and often paralyzing progress of their sales team. As reported by the Miller Heiman Group, "the average sales organization is already using 10 tools and planning to add four more. But most organizations aren't yet maximizing the value of these tools, because they haven't fully integrated them into their workflows: less than 30% of sales organizations reported mastery of integrating their technologies."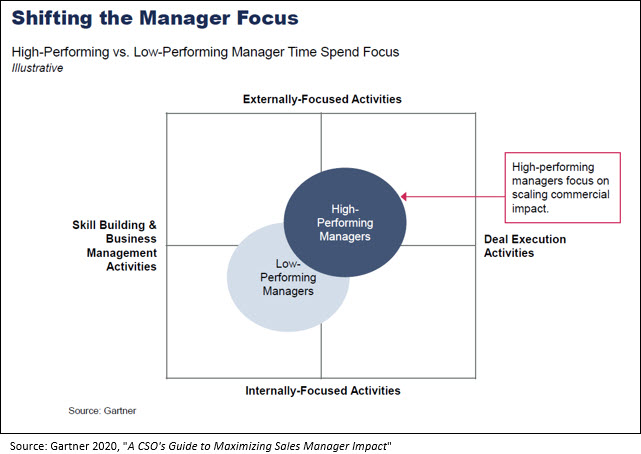 The Just Right Sales Technology Portfolio Impacts Revenue
The "Story of the Three Bears" is an old nursery Tale but still provides a simple solution to a complex problem. Too little sales technology and you leave money on the table. Too much sales technology, you waste money on SaaS licenses and contribute to sellers being less productive. To determine the 'just right' mix for your company, plot your current sales technology and those tools you are considering on a spectrum with 'Direct Impact on Sales Skills' on the left and to 'Direct Impact on Revenue' on the right. You will be surprised how few tools directly impact revenue. You can visit Vendor Neutral to help you simplify the Sales Tech selection process.
The 'just right' approach is to combine CRM with software that directly impacts revenue, such as Deal Coaching software. The one area where CRM falls flat is in helping sales teams drive healthy conversations on deal execution. Deal Coaching software sends clear signals about deal health while providing a manager with a better way to effectuate coaching on real deals. Deal Coaching software offers a light-weight way to introduce structure into a sales org while focusing sellers on deal execution activities that advance deals and improve win rates, not just hone sales skills.
Streamlining your sales technology stack will save money in SaaS licenses; time with less to integrate into your sales process; and efficiency with employees having to deal with less technology. "The more integrated the tech stack, the better the win rates (+9.4%) and quota attainment (+8.1%)".
If today you rely solely on CRM, I encourage you to evaluate complementary sales software to understand your position in the deal, your position with buyers, and the next best sales motions to pursue to advance current deals.
Companies that navigate the 'just right' mix of sales technology in 2020 will have a competitive advantage in 2021, setting up the sales team for success. When did you last evaluate your sales technology stack and determine each tool's efficacy? We encourage you to rebalance your sales tech portfolio this quarter.
SOURCES
Gartner 2020, 'A CSO's Guide to Maximizing Sales Manager Impact'
CSO Insights, 'Finding an Extra Gear: 2nd Annual CSO Insights Sales Operations & Technology Study'
Miller Heiman Group, 'Five Long-Term Sales Trends From the LinkedIn State of Sales Project'
BIO
Erik is passionate about technology. He spent 25+ years in the software industry in development, product management, and as the founder of an event management company that was acquired by Constant Contact. Today, Erik is the founder and CEO of DealCoachPro – Deal coaching CRM plug-in drives deal execution for modern pursuit teams..
Erik's LinkedIn Profile